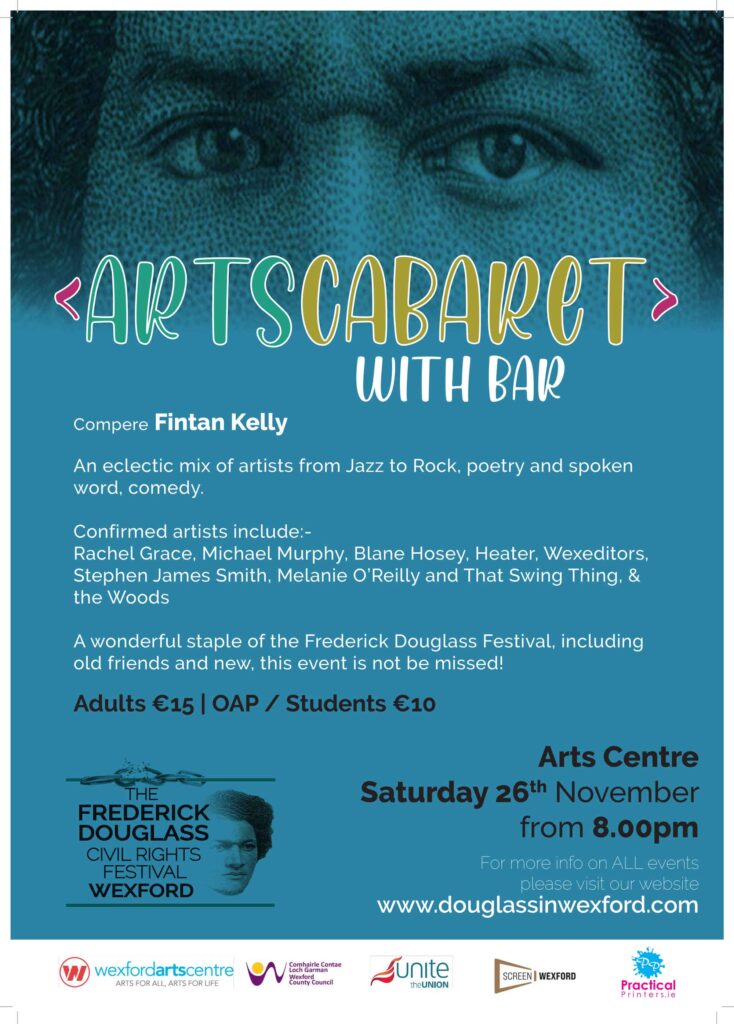 Frederick Douglass Civil Rights Festival – Arts Cabaret featuring an eclectic mix of artists from Jazz to Rock, poetry and spoken word, and comedy. 
Compere Fintan Kelly with performing artists to include Rachel Grace, Michael Murphy, Blane Hosey, Heater, Wexeditors, Stephen James Smith, Melanie O'Reilly and That Swing Thing and the Woods.
A wonderful staple of the Frederick Douglass Festival, including old friends and new – a night not to be missed!
Michael Murphy 
Michael Murphy is a singer-songwriter from Wexford town. Born in 1951 Michael's family emigrated to the USA in 1961 due to poverty. Michael was involved in many human-rights and anti-war campaigns over the years and returned to live in Ireland in 1996. Michael worked as a carpenter/builder/ furniture-maker and as technician at UCD Architecture until his retirement in 2016.  Michael enjoys cycling, archery, kayaking, sleeping late, and currently lives with his old collie, Shine. 
Heater 
"Heater is a band from Wexford who have been playing together since April 2022. They made it to the finals of Wexford Has Talent and won the local battle of the bands in June. The bad comprise of Jessi on vocals, Dean on guitar, Enda on bass and Liam on drums. All the band members are still in secondary school in Wexford town and are looking forward to playing as much as possible."
The  Woods
The Woods with Shane Ryan on vocals and guitar infused with the rhythmic talents of Derek Black on Drums and Kevin Carley on Bass. The Woods are a rock band at heart with a hint of electronic, influenced by artists such as David Bowie, Jimi Hendrix, Pearl Jam and Kula Shaker. 
Melanie O'Reilly and students
That Swing Thing:  Jazz vocal ensemble led by Melanie O'Reilly 
Created by jazz singer Melanie O'Reilly, the jazz vocal group That Swing Thing , formed in Wexford,  join the Frederick Douglass Festival to pay tribute to singer Nina Simone , one of the civil rights movement's greatest activists whose  influence still lives on.
Wexeditors 
Wexeditors consists of Álanna Hammel (editor of The Wexford Bohemian) and Deirdre McGarry (editor of Wexford Women Writing Undercover). Both literary journals are published with Red Books Press. They are at opposite ends of the age spectrum and have teamed up to present a set of civil rights themed original poetry.
Alanna has recently published her first collection Cruel and Vicious which sold out in two days.
Deirdre produced a very innovative art/poetry collaboration Light Alchemy with Pippy Firman at the end of 2021.
This promises to be an intriguing collaborative performance.
Stephen James Smith
Stephen James Smith is a Dublin poet and playwright, central to the rise of the Irish spoken word scene.  His poetry videos have amassed over 3 million views online, including 'My Ireland', a short poetry film commissioned by St. Patrick's Festival.  Stephen has performed extensively at top venues and events such as Electric Picnic, Other Voices, the National Concert Hall, the Abbey Theatre (Noble Call), Vicar Street (alongside Oscar winner Glen Hansard), the London Palladium, the Oscar Wilde Awards (LA), Glastonbury Festival and George Town Literary Festival (ML).  His debut collection is Fear Not  published by Arlen House.