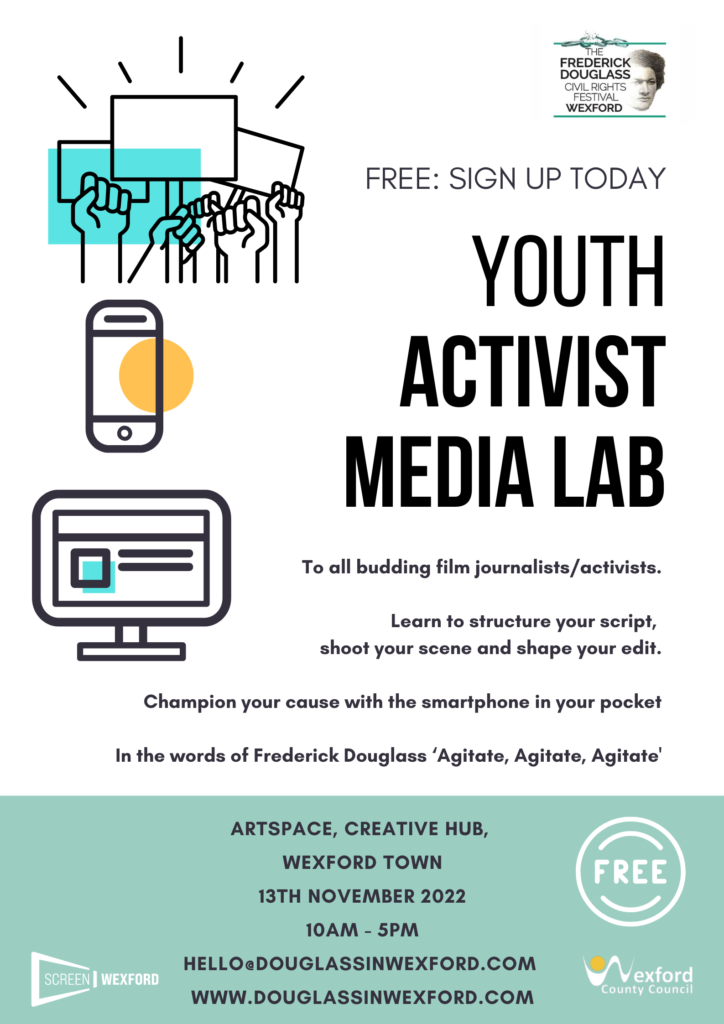 The Frederick Douglass Civil Rights Festival Wexford:
Youth Activist Media Lab
Date: 13th November 2022
Time: 10AM-5pm
Location: Artspace, Creative Hub, Wexford town
Cost: This workshop is Free – Please register to attend
Contact email: hello@douglassinwexford.com
Website: douglassinwexford.com
To all budding film journalists/activists. Learn to structure your script, shoot your
scene and shape your edit.
Champion your cause with the smartphone in your pocket.
In the words of Frederick Douglass 'Agitate, Agitate, Agitate'
The Frederick Douglass Civil Rights Festival Wexford are running a Youth Activist
Media Lab to give a platform to Wexford's young activists.
We want young students to help write and produce a film and think about those
people who are marginalised and need their civil rights to be recognised.
We will work with you to design a collaborative video that engages people and
expresses areas of activism you wish to see explored and achieve a greater impact?
Our Youth Activist Media Lab will be a collaborative process that will enable you to
participate in a video workshop that will give you tools to platform your ideas.
Our goal will be for you to learn about video production and to help write and shoot a
film that gives a platform to the subjects you are passionate about.
The workshop will cover the following:
● Pre-Production: The planning stage. What is your video about? Writing a
script and working in collaboration with others.
● Production: Shooting a video. What do you need to know about camera,
lighting, and audio equipment to best execute your vision? How to get the
best results out of your smartphone using everyday items.
● Post-Production: Editing your video. How do you put all the final pieces
together to present your final video? Learn about editing software available on
your phone/tablet and how to use it to create an engaging film.
This workshop will be supported by Screen Wexford and run by Wexford filmmaker
Therese Dalton who facilitates a range of video-based educational training including
the Wexford Youth Film programme. Therese will walk participants through the
fundamentals of filmmaking and the editing process to create engaging short films.
All the footage created on the day will be then edited and presented at the 2022 The
Frederick Douglass Civil Rights Festival Wexford on the 25th November 7-9pm in the
Wexford Arts Centre.
Values
The Frederick Douglass Civil Rights Festival Wexford values are:
● To be rooted in the community, giving opportunity to local diversity, activists
and artists.
● To include national and international artists and speakers to develop local
awareness and links.
● To highlight contemporary civil rights issues and discrimination in Ireland.
We are seeking young creative activists who wish to be a part of this journey and
use their voice to speak about issues that are important to them.
Background info about Frederick Douglass
Runaway slave and American campaigner against slavery, Frederick Douglass
visited the Assembly Rooms (now the Wexford Arts Centre) in October 1845 and
spoke for 2 nights. The people who heard him were excited by his articulate oratory
and the passion he had for his cause.
Douglass was just 27 when he came to Ireland for just 4 months – he met Daniel
O'Connell on his arrival in Dublin and was invited to speak at the end of one of his
events. Both men were seriously impressed with each other and became friends for
life. Douglass was given the nickname 'The Black O'Connell' Douglass said that
O'Connell had changed him from a single issue campaigner to one who advocated
for civil rights for everyone everywhere. He was ahead of his time in supporting
advocates for women's rights. He only visited Ireland again once many years later
but was still shocked by the poverty.
He wrote prolifically and founded a newspaper. He was an adviser to Abraham
Lincoln and saw the abolition of slavery in 1865. He married twice – his second wife
was white. While he was in Ireland Quakers in the UK purchased his freedom as he
had arrived with a bounty on his head. Until his death in 1887 he was politically
active and his last advice to a young activist was Agitate, agitate, agitate.