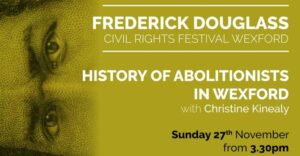 Black Abolitionists in Wexford.
27 Nov 2022
While Frederick Douglass is the most well-known black abolitionist who visited Ireland in the nineteenth century, he was not the only one. As many as 30 American activists made the journey to Liverpool, and then onwards to Ireland, in the hope of building a strong trans-Atlantic movement than would end the system of enslavement in all parts of the world. This presentation will look at the involvement of Wexford in this struggle for human rights in the decades that led up to the American Civil War.
Professor Christine Kinealy is the Director of Ireland's Great Hunger Institute at Quinnipiac University.
A graduate of Trinity College, Dublin, she has published extensively on Ireland's Great Hunger and, more recently, the Irish Abolition movement, including the award-winning This Great Calamity. The Great Famine in Ireland (2006), Frederick Douglass and Ireland. In his own words (2018) Black Abolitionists in Ireland (2020).
Christine has been named one of the top educators in Irish America. In 2014, she was inducted into the Irish America Hall of Fame (based in New Ross) and, in 2017, received an Emmy for 'The Great Hunger and the Irish Diaspora' documentary. In 2019, she was one of five historians who participated in the inauguration of The National Famine Way.